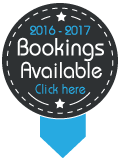 Winter season is almost here in Samoëns!
Summer 2016 has drawn to a close, the children have returned to school and many of us are starting to look forward to the season ahead of us. This can only mean one thing for those of you who enjoy the alpine climate and outdoor adventures – a winter ski holiday!
And how better than to experience what the picturesque village of Samoëns has to offer - one of the 5 proud French alpine ski resorts which make up the Grand Massif. The Telegraph in 2012 described Samoëns as 'enchanting' and noted it to be possibly the best ski resort in France... And this hidden gem has only become more attractive with each season, while maintaining its authentically natural and rustic charm. Just to set the scene, the heart of the village resides a lime tree, which is surrounded by the gothic church, the alpine botanical gardens, bars, restaurants - both traditional Savoyarde and European, grotto-like clothes and trinket shops, patisseries and a vast newly built covered ice skating arena which also hosts hockey and entertainment for families during the seasons. All this is an 8-minute cable car ride away from the start of the Samoëns ski slopes.
For those unfamiliar with this part of the world, the Grand Massif (an hour's drive away from Geneva) is the 4th largest ski-linked area in France with 265km of pistes up to an altitude of 2500m. Flaine, Les Carroz, Morillon, Samoëns and Sixt together offer access to 144 pistes, providing an overwhelming amount of choice to suit all level of skiers. Be amazed by a season of blue sky and fresh powder days at the summit (Samoëns 1600m) which is north-facing and therefore reliable for snowfall, clear long and winding Grand Massif runs – which are groomed nightly with 254 snow cannons, as well an abundance of off-piste slopes worthy of a winter wonderland postcard. No filter required :)
This beautiful, welcoming and 'romantic' resort attracts holidaymakers from all over Europe and further afield, and is enjoyed by couples, groups of friends as well as families of all ages and abilities. Here you will find something for everybody. There are plenty of slopes that beginner level skiers can access from Samoëns summit – such as the newly paved Septi-snake, a total of 9 green slopes just in the local area (Massif), a travellator, several ski-lifts and even some button lifts which aren't too daunting! For the intermediate and experienced skiers/snowboarders there is ample choice of blue, red and black slopes, as well as a Jam park to show off your freestyle snowboarding skills.
In response to the growing popularity of the resort, Samoëns has seen the opening of the Chariande Express Chairlift in 2009. This is considered the Ferrari of all chair lifts; ascending from 1600 to 2120ft in just 9 minutes - allowing you to maximise the opportunity to explore the rest of the ski domain. There is now more choice than ever of restaurants up in the summit and among the slopes - for a well-deserved chocolat chaud avec Chantilly and a crépe or two.
In addition, Winter 2016/17 has brought with it a new red piste in Samoëns that promises an 'awe-inspiring panorama'. There are also 3 new pistes in Flaine this season, adding to the reputation of The Grand Massif being one of the world's biggest ski areas.
This winter season, the Grand Massif ski domain will be open from Saturday 17th December 2016 to 17th April 2017. Looking at the recent seasonal trends, there has been fresh snowfall as late as the end of April, so this area fares well among satisfied holiday makers.
So whether you choose to fill your itinerary with active/leisurely skiing or snow-boarding, performing speed riding tricks, taking in the stunning views of the Mt Blanc mountain range from Les Grandes Platieres, spending time with the children on the nursery runs, skidooing, tobogganing, ski-trekking, ice-climbing, parapenting, or husky sledding...Samoëns has access to it all.
Bienvenue á Samoëns - Winter 2016/17.
Apartment Buqa Samoens
We warmly welcome you to Apartment Buqa – an exclusive self-catered family owned chalet-style apartment accommodation, sat proudly in the picturesque mountain town of Samoëns. It offers an air of luxury, style and comfort, sleeping up to 8 people.
Apartment Buqa has all the ingredients which make it feel like home away from home, with a sense of indulgence and freedom to enjoy the holiday just the way you want. The apartment is equipped with ample space to entertain, a Jacuzzi to help you unwind, a whole mezzanine level dedicated to 'chilling out' and watching movies/playing games, a log-fire for the winter nights, and a balcony to experience the sunset over the backdrop... you need never leave the apartment! Buqa is also an environmentally-conscious apartment – we believe in helping to preserve the natural beauty of the mountains.
In a nutshell, Buqa offers the perfect place to Bond and Unwind in Quality surroundings, All year round. That's how we arrived with the name, and it suits this place perfectly.
What guests like to know is how far we are from the ski slopes. The apartment is located a 5-minute walk away from the village centre and local amenities. It is a 2-minute bus route to the Grand-Massif slopes. It is a 5-minute drive away from a large supermarket and merely a (secret) path away from the Alpine botanical gardens ;)
If you are curious, please have a look at our guest testimonials, or take the virtual tour of the apartment. Better still, have a look at the view from the balcony at Buqa by clicking on our live Webcam!
...And of course we are here to help make sure our guests have all their needs catered for before and during their stay - to make it an experience to look forward to, to remember and to cherish for seasons after.
Feel free to give us the thumbs up, hashtag us or share photos of your BUQA days with us!
The BUQA family.